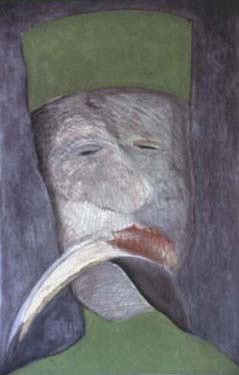 A link to Johnson's
The Book of the Green Man
(link on Silliman's blog today). Painting by Basil King (in book).
http://www.thing.net/~grist/ld/rjohnson/rj-gm-1.htm
Excerpt from Summer section:
What the Leaf Told Me

Today I saw the word written on the poplar leaves.
It was 'dazzle'.
The dazzle of the poplars.
As a leaf startles out
from an undifferentiated mass of foliage,
so the word did form a leaf
A Mirage Of The Delicate Polyglot
inventing itself as cipher.